Thread mills are tools designed to cut threads by milling. Thread mills are used on numerically controlled machining centers (NC) that have simultaneous, triaxle control and helical interpolation functions. In comparison to general tapping, thread milling is more stable with less cutting condition limitations in terms of chip management and coolant lubricity.
Features

1-pass process enables high quality internal threading.

Right-hand cut and left-hand helix geometry prevents bending.

Unequal spacing and variable lead flute geometry minimizes vibration.

EgiAs coating for exceptional wear resistance and toughness.
Use RPRG to reduce the workload
RPRG is the reference value of tool radius offset. Conventionally, the tool radius value is entered during setup as a parameter of the NC system, which is corrected by checking the thread with a gauge. Now, the process of correction can be simplified by simply inputting the RPRG value as indicated on the tool shank.
NC Code Generator Software
Support
Three Support Tools for Your Thread Milling Needs
(1) Reduce Setup Time
(2) Reduce Machining Time
(3) Achieve Stable Tool Life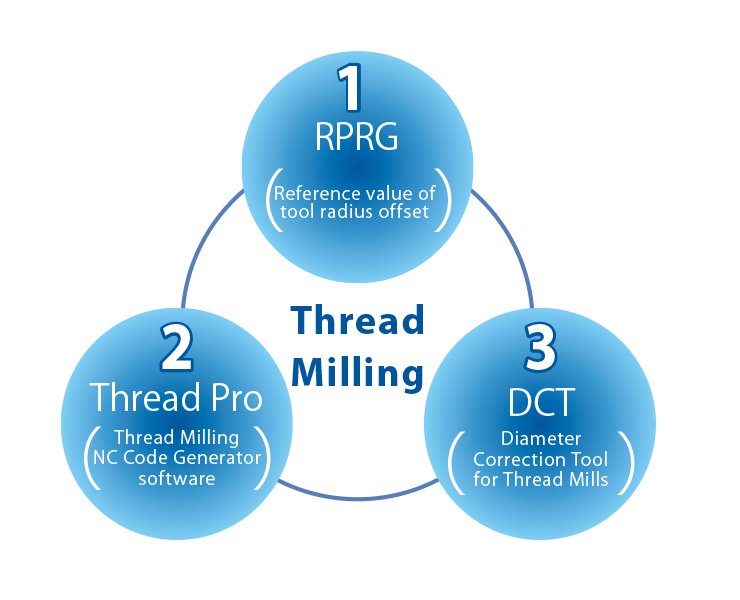 Details on DCT
Details on ThreadPro
Lineup
AT-1
M6~M24
1/4U~1U
R (PT)・Rc (PT)1/16~2
Rp (PS)・G (PF)1/16~2
NPT1/16~2
Applications
Low Carbon Steel・Medium Carbon Steel・High Carbon Steel・Alloy Steel・Hardened Steel(25HRC~45HRC)・Stainless Steel・Cast Steel・Cast Iron・Ductile Cast Iron・Copper・Brass・Brass Casting・Bronze・Aluminum Rolled・Aluminum Alloy Casting・Magnesium Alloy Casting・Zinc Alloy Casting・Thermo Setting Plastic・Thermo Plastic
Data
High-Grade Internal threading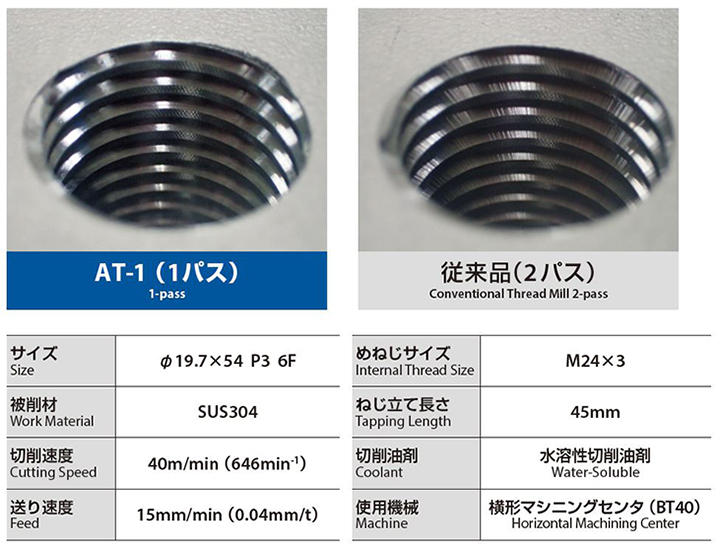 Media
Tutorial Video
Product inquiry and technical support