The PDZ indexable flat drill is engineered for stable flat bottom hole machining. In addition to flat surface processing, the PDZ can also accommodate a wide range of hole shapes, such as inclined surface, curved surface, counterboring, half-hole drilling, and more. Its excellent chip breaking ability enables trouble-free stable machining up to a hole depth of 2xD. The PDZ also supports internal turning, face turning and outer turning applications to enable tool consolidation on lathes.
Compatible with a wide range of applications including drilling, counterboring, inclined surface drilling, and more.

Features

Flat bottom cutting edge configuration


High precision finishing on flute improves rigidity, chip ejection and reduces cutting force

Superior chip breaking capability during drilling, counterboring, and turning

Economical 4-corner insert design maximizes cost efficiency, with the same insert applicable to both center and peripheral cutting edge →The peripheral insert is recommended for maximum durability!
Enables tool consolidation on lathes
Applications
Mild Steel・Carbon Steel・Low Carbon Steel・Alloy Steel・Die Steel・Stainless Steel・Cast Iron・Ductile Cast Iron・Aluminum Alloy・Superalloy・Titanium Alloy・Pre-hardened Steel(40~43HRC)・Hardened Steel(50~55HRC)
Lineup
Data
Higher cost performance compared to exchangeable head drills
The number of holes machined per insert corner by the PDZ versus per exchangeable head by a competitor.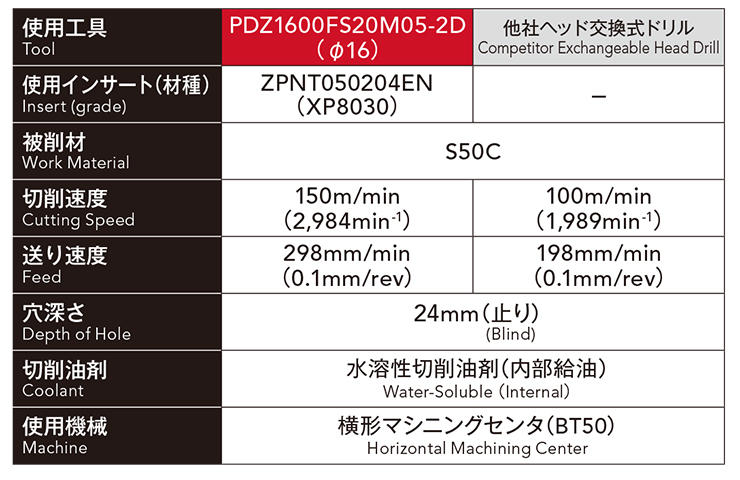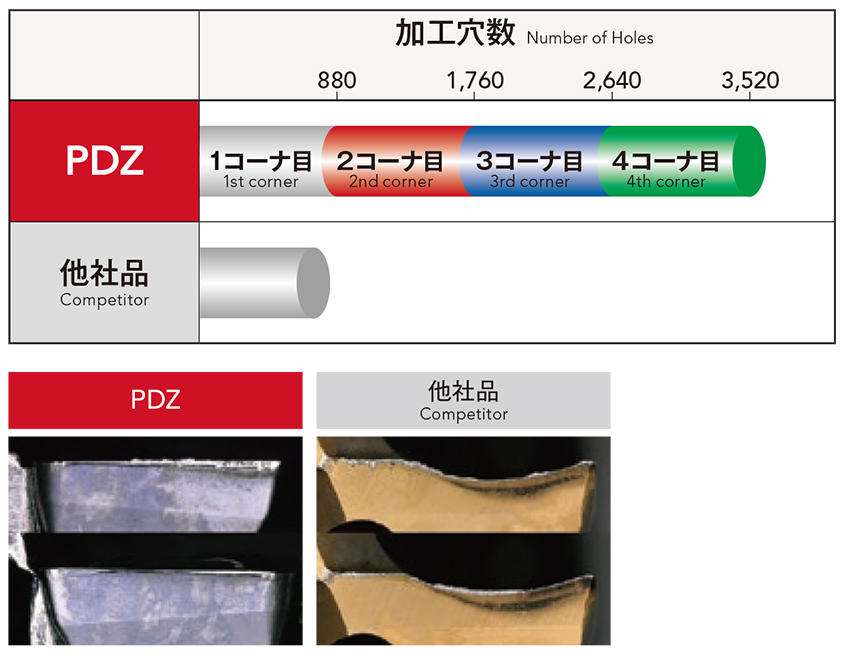 Media
Tool consolidation by turning and inclined surface machining
Product inquiry and technical support