The indexable PD series features an optimized flute geometry at the tip of the cutter body with excellent surface smoothness to enable superior chip evacuation. It is an ideal solution for a wide variety of materials such as carbon and alloy steel, stainless steel, cast iron, and non-ferrous materials.
Features


Optimized groove on the body tip helps to lead chips to the flute smoothly.

High precision finishing of flute improves rigidity, chip ejection and reduces cutting force.

Economical 4-corner insert design maximizes cost efficiency, with the same insert applicable to both center and peripheral cutting edge.
→The peripheral insert is recommended for maximum durability!

Internal coolant system enables highly efficient drilling.

High- feed drilling made possible by sequential balance of inserts.
Applications
Mild Steel・Carbon Steel・Low Carbon Steel・Alloy Steel・Die Steel・Stainless Steel・Cast Iron・Ductile Cast Iron・Aluminum Alloy・Heat Resistant Alloys・Titanium Alloy・Pre-hardened Steel(40~43HRC)・Hardened Steel(50~55HRC)
Lineup
2D・3D・4D・5D
P2D φ12~φ63
P3D φ12~φ63
P4D φ12~φ63
P5D φ12~φ63
Data
Achieves stable drilling, even when making rigorous, 5xD deep holes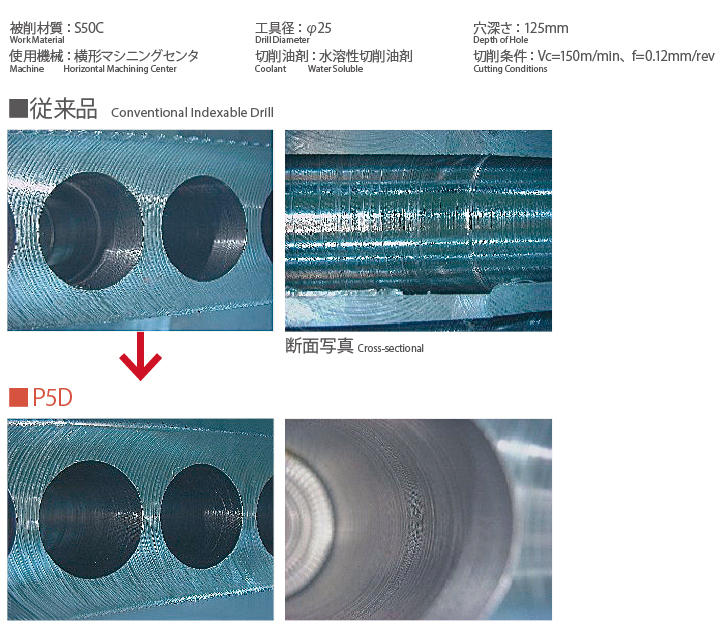 Media
Webinar
Product inquiry and technical support