The A-Tap is known for its superior chip evacuation capability. It is an all-purpose tap series developed to accommodate a wide variety of materials and machining environments, helping manufacturers simplify tool management. Looking for a reliable tool that can do it all for general threading? The answer that you have been waiting for is here.
Features


Sharp cutting edge stabilizes chip shape.

Variable lead flute enables trouble-free chip evacuation.
Excels in a wide range of applications and materials.
Compatible with various types of machining equipment – from manual drilling machines to the latest advanced machining centers.
New generation synchronized tap holder designed to maximize the performance of your A-Tap tools.

For Details
Applications
Low Carbon Steel・Medium Carbon Steel・High Carbon Steel・Alloy Steel・Stainless Steel・Tool Steel・Cast Steel・Ductile Cast Iron・Copper・Brass・Brass Casting・Bronze・Aluminum Rolled・Aluminum Alloy Casting・Magnesium Alloy Casting・Zinc Alloy Casting・Titanium Alloy
Lineup
Blind
A-SFT

Basic form M1.4~M24、No.4~7/8U
For Threading large diameter holes M27~M56、1U~2U
End Mill shank M3~M14


A-LT-SFT

Long shank M2~M24
Long Shank (End Mill Shank) M3~M24

A-SFT HL

Helicoil / EG / STI M2~M12、No.10~3/8U


A-LT-SFT HL

Long Shank for Helicoil / EG / STI M3~M10


A-TPT

Taper Pipe Thread (Long Thread)  PT(Rc)・NPT 1/16~1"


A-S-TPT

Taper Pipe Thread (Short Thread) PT(Rc)・NPT 1/16~1"


A-SPT

Parallel Pipe Thread Rp・G・NPS 1/16~1"
Through
A-POT

Basic form M1.4~M24、No.4~7/8U
End Mill shank M3~M14


A-LT-POT

Long shank M2~M24
Long Shank (End Mill Shank) M3~M24
Data
Threading in Large Hole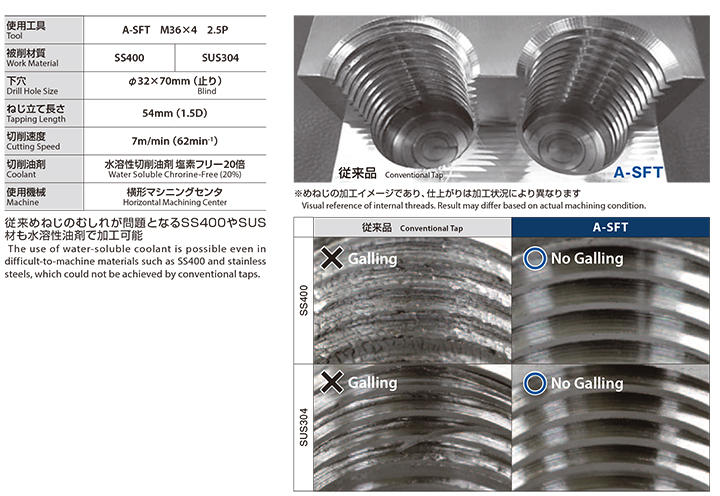 Media
Webinar
Product inquiry and technical support