The PXM is an exchangeable head end mill series with the same high performance of a solid tool and the cost efficiency of an indexable tool. A single exchangeable head body is able to accommodate a wide range of exchangeable heads to meet various application needs.
Features

Offers performance advantage of both solid and indexable tools.
A single shank holder to accommodate a wide variety of exchangeable heads.
Comprehensive exchangeable head lineup for various applications.
New PXSH exchangeable heads for high-hardness steels.

Prevents clogging of chips by using coolant or air through the internal oil hole. Improves chip evacuation.
The outer diameter of the large flute type is larger than the shank neck diameter, making it highly effective in processing of die and mold applications that require vertical wall milling or pocketing.
For Details
Collet for PXM (PXMC) : Enables ultra efficiency even on small machining center.
For Details
Applications
Mild Steel・Carbon Steel・Cast Iron・Alloy Steel・Tool Steel・Stainless Steel・Hardened Steel・Copper Alloy・Aluminum Alloy・Titanium Alloy・Superalloy・Inconel・Pre-hardened Steel・Cobalt-Chromium Based Alloy (Stellite) , etc.
Lineup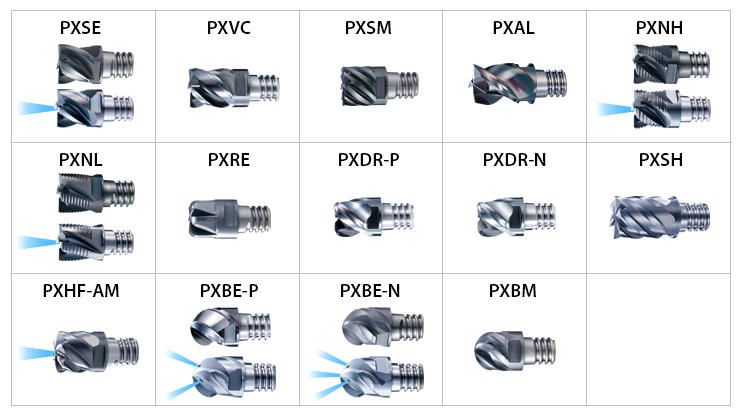 Head
PXSE Unequal Spacing, 4-Flute, Square・Corner Radius Type
without Coolant Hole φ10~φ25
with Coolant Hole φ12~φ25

PXVC Variable Lead, 4-Flute, High Helix, Square・Corner Radius Type
without Coolant Hole φ10~φ32

PXSM Unequal Spacing, Multiple Flutes, Square・Corner Radius Type
without Coolant Hole φ10~φ25

PXAL 3-Flute Square・Corner Radius Type
without Coolant Hole φ10~φ25

PXNH Variable Lead, 4-Flute, High Helix, Roughing Type
without Coolant Hole φ10~φ25
with Coolant Hole φ12~φ25

PXNL Variable Lead, 4-Flute, Low Helix, Roughing Type
without Coolant Hole φ10~φ25
with Coolant Hole φ12~φ25

PXRE Straight Flutes, Corner Radius Type
without Coolant Hole φ10~φ20

PXDR-P 3-Flute, Multi-purpose, Corner Radius Type
without Coolant Hole φ10~φ20

PXDR-N 3-Flute, Heavy-duty, Corner Radius Type
without Coolant Hole φ10~φ20

PXSH Unequal Spacing, Multiple Flutes, Square Type
without Coolant Hole φ12~φ25

PXHF-AM Multiple Flutes, High Feed Radius Type
with Coolant Hole φ12~φ20

PXBE-P 3-Flute, Multi-purpose, Ball Type
without Coolant Hole φ10~φ20
with Coolant Hole φ12~φ20

PXBE-N 3-Flute, Heavy-duty, Ball Type
without Coolant Hole φ10~φ20
with Coolant Hole φ12~φ20

PXBM Multiple Flutes, Ball Type
without Coolant Hole φ12~φ20
Body
Straight Shank Holder for PXM(PXMZ) Carbide・Steel Shank
Straight Shank Holder for PXM(PXMZ) Carbide・Steel Shank with Coolant Hole
Joint for PXM(PXMJ)
Joint for PXM(PXMJ) with Coolant Hole
Collet for PXM(PXMC)
Data
1.6 times durability and 1/5 of tooling cost achieved in parts machining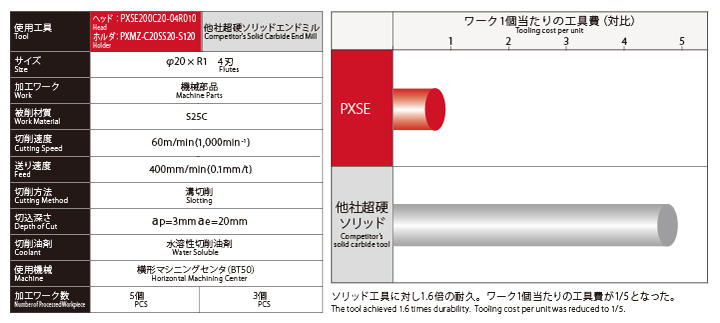 Media
Product inquiry and technical support