The ADF series is not only ideal for flat-bottom hole applications, it is also compatible with a wide range of hole shapes such as inclined surfaces, curved surfaces, counterboring, half-holes, thin plates, and more. In order to better accommodate manufacturers' various processing needs, the ADF series has been newly expanded with the ADF-2D, a general-purpose type that can be used for a wide range of machining; the ADFLS-2D, which can be used for machining with long overhang length; the ADFO-3D, which include oil holes that can be effectively used in stainless steel applications; and the ADF-NC and ADFO-NC, which are compatible with small automatic lathes.
One drill does it all – suitable for a wide variety of applications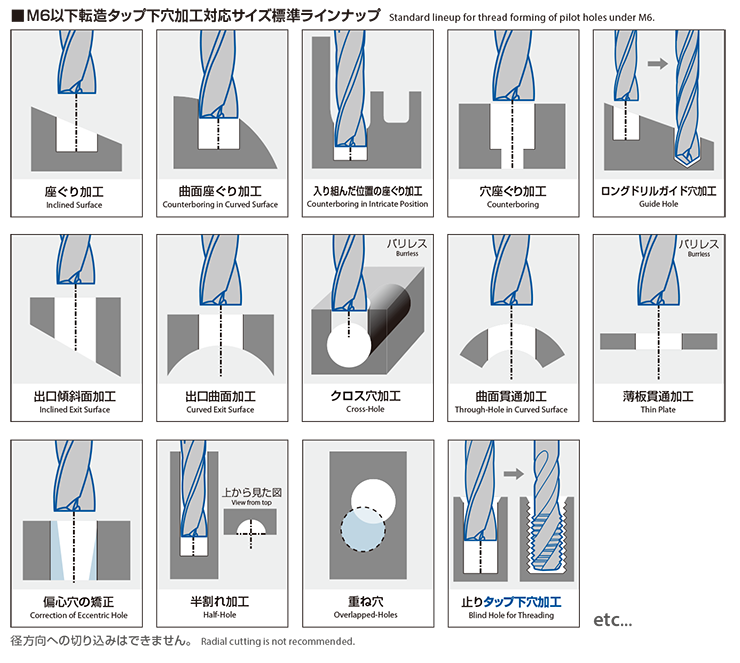 Features


EgiAs coating for exceptional wear resistance and toughness.

Wide chip room for smooth chip evacuation.

Unique end cut geometry reduces cutting force to enable stable machining.

20°helical grooves with high rigidity.

ADFO-3D: Sharp gash angle produces chips with fine curl
View Product Video

ADF-NC・ADFO-NC:Short flute length specification to accommodate small automatic lathes.

Applications
ADF-2D・ADF-NC : Low Carbon Steel・Mild Steel・Carbon Steel ・Alloy Steel・Plastic Mold Steel ・Stainless Steel(DC<φ2)・Special Alloy Steel・Hardened Steel・Prehardened Steel・Cast Iron・Ductile Cast Iron・Aluminum・Aluminum Alloy Casting
ADFLS-2D : Low Carbon Steel・Mild Steel・Carbon Steel ・Alloy Steel・Plastic Mold Steel ・Special Alloy Steel・Hardened Steel・Prehardened Steel・Cast Iron・Ductile Cast Iron・Aluminum・Aluminum Alloy Casting
ADFO-3D・ADFO-NC : Low Carbon Steel・Mild Steel・Carbon Steel ・Alloy Steel・Plastic Mold Steel・Stainless Steel・Special Alloy Steel・Hardened Steel・Prehardened Steel・Cast Iron・Ductile Cast Iron・Aluminum・Aluminum Alloy Casting
Lineup
Carbide Flat Drill
Carbide Flat Drill 2xD Type (ADF-2D) φ0.2~φ20 1,084 items
Carbide Flat Drill Long Shank 2xD Type (ADFLS-2D) φ3~φ20 177 items
Carbide Flat Drill 3xD Type with Oil Holes (ADFO-3D) φ3~φ20 160 items
View Product Video
Compatible with small automatic lathes
Carbide Flat Drill (ADF-NC) φ2~φ12 24 items
Carbide Flat Drill with Oil Holes (ADFO-NC) φ3~φ10 11 items
Data
Superior performance even in stainless steel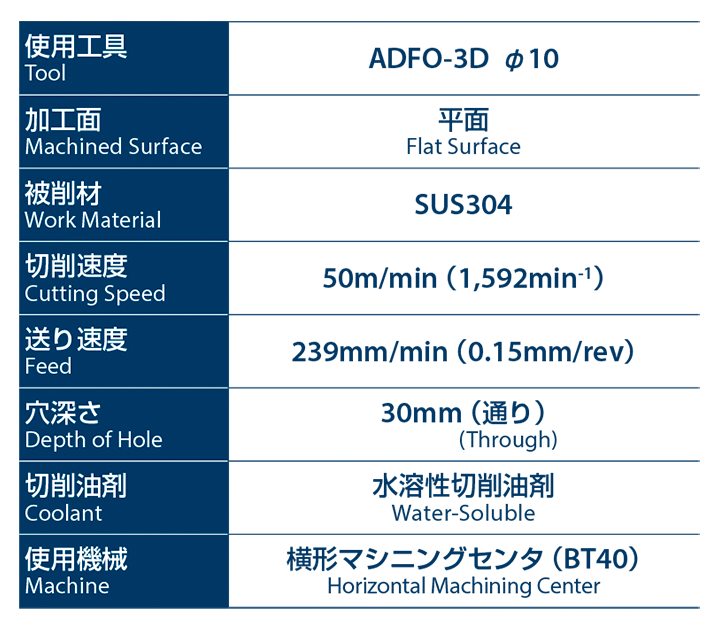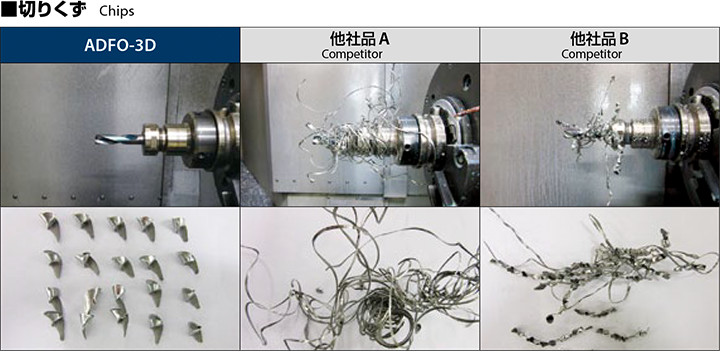 Media
Webinar
Product inquiry and technical support