High-value added products - advanced technology and superior technical support -
OSG is dedicated to precision manufacturing and sales of cutting tools such as taps, end mills, drills and rolling dies, which are used in machining centers for the processing of industrial products.
Quality, efficiency and production cost are the daily challenges of each and every manufacturer. Utilizing know-how that OSG has accumulated over the years through vigorous product research, development and customer communication, OSG not only provides products with the greatest quality possible, but also a technical support system that can tailor tooling solutions for each client' specific needs.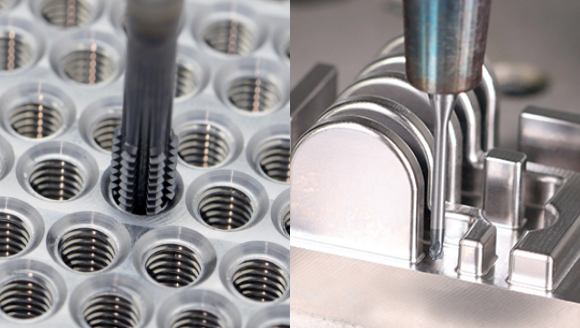 Taps
Highly accurate thread making

- Taps are tools used to make internal threads -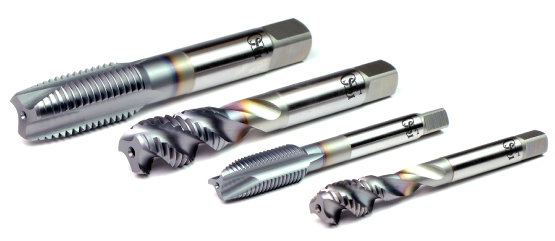 OSG has the world's top market share for taps, which the company has been manufacturing since its foundation. Engines of automobiles and aircrafts require many screw holes that are used for holding various parts together with bolts ("male" screws). High precision is of vital importance as these completed products are used for transportation. With lives in jeopardy, screw holes must be manufactured with zero margin of error so that the bolts would never come loose. OSG offers a lineup of taps that are versatile, highly accurate and efficiency to provide our clients with the greatest satisfaction possible.


Drills
Ultra high-speed operation made possible with advanced technology

- Drills are tools used to make holes -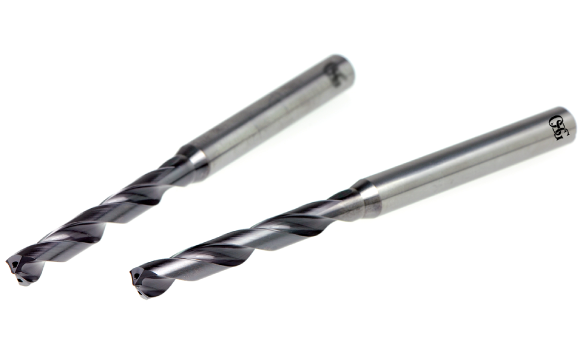 Crankshaft, a major part of an automobile engine, requires the drilling of several long and slanted holes that intersect the oil paths, as shown in the figure on the right. In the past, to create such holes would require a great deal of time with conventional gun drills, as they could only cut little by little. OSG has developed a new type of carbide long drill capable of drilling long depth without pecking. With excellent cutting geometry and coating, which contribute to trouble-free chip evaluation, OSG's long drills have earned high reputation among clients for their high production efficiency.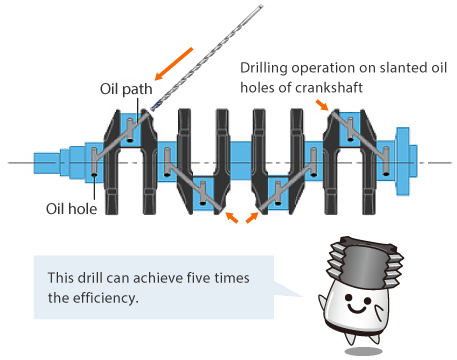 End Mills
Versatile tools for making molds and processing a wide range of industrial products

- End mills are tools used to shape metal-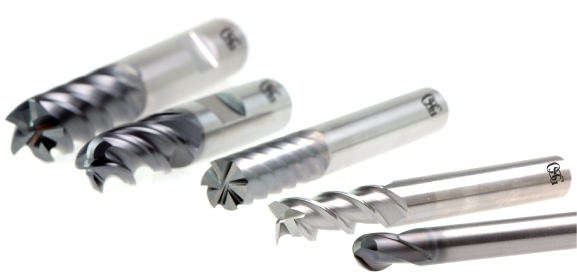 Metal molds are used to mass produce parts for digital electronics and automobiles. End mills are used to manufacture these metal molds. To meet today's demanding requirements, such as smaller size, lower weight and reduced cost, OSG focuses on developing high precision end mills and proposing the fine-tuned cutting condition to each client.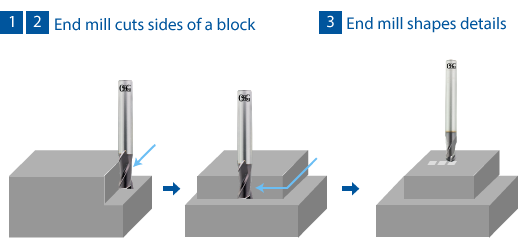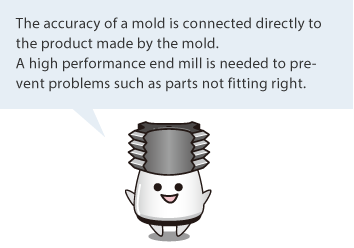 Rolling Dies
Tools for high accurate external threads and automobile parts

- Rolling dies are tools used to make external threads -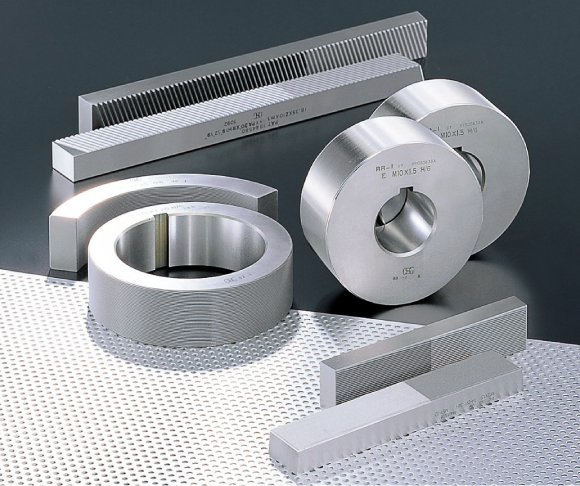 While taps make the internal threads within a hole, rolling dies make external threads on the outer side of a round bar. Rolling dies comprise of a set of two parts.
A round bar is pressured from both right and left side by rolling dies, which have threads on the surface, which the bar would then roll on. Threads are formed on the bar by copying threads from the rolling dies. Rolling dies are also used for shaping serration of automobile shafts.


Indexable tools
Environmentally friendly and economical!

- Indexable cutting tools refer to tools where the tool body and the cutting tips can be detached -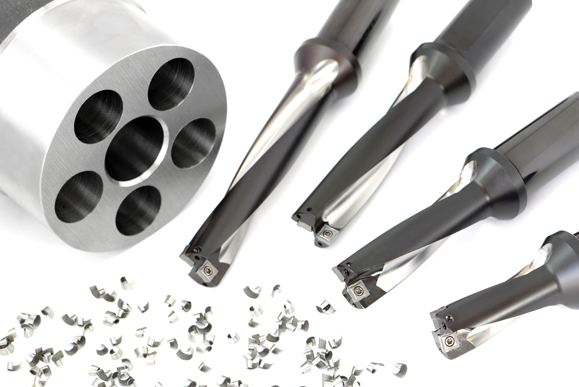 Indexable cutting tools are used by attaching the cutting tips (chips) to the tool body. If the chip is damaged or worn, it can be replaced, making it very economical and environmentally friendly. OSG offers indexable cuting tools for threading, milling and drilling.