Stock Status
Major Shareholders
(Data as of November 30, 2022)
Major Shareholders
Number of Shares Held
(Thousands)
Percentage of Ownership
(%)
The Master Trust Bank of Japan, Co., Ltd. (Trust Account)
14,483
15.10
Custody Bank of Japan, Ltd. (Trust Account)
5,861
6.11
SSBTC CLIENT OMNIBUS ACCOUNT
3,986
4.15
OSG Agent Association
3,356
3.50
NORTHERN TRUST CO.(AVFC) RE FIDELITY FUNDS
2,970
3.10
OSG Stock Holding Association
2,621
3.10
Osawa Scientific Studies Grants Foundation
2,350
2.45
Sumitomo Mitsui Banking Corporation
2,100
2.19
Nomura Trust and Banking Co., Ltd. (Investment Trust Account)
1,844
1.92
THE BANK OF NEW YORK MELLON 140051
1,844
1.90
*In addition to the above, The Company owns 3,241,190 shares of treasury stock.
Ownership Breakdown
(Data as of November 30, 2022)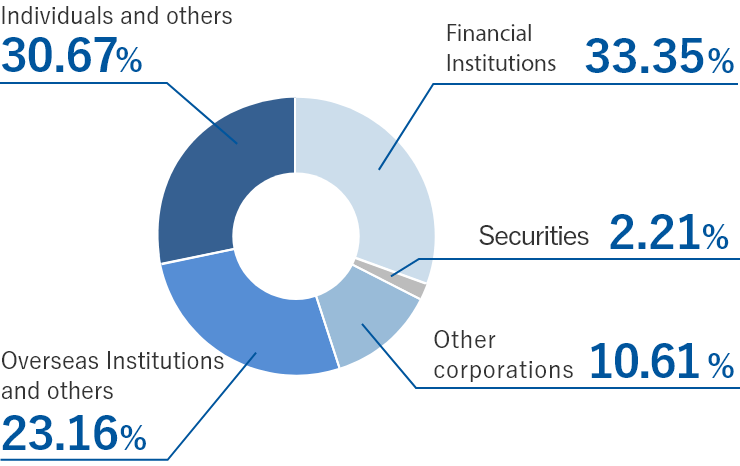 Stock Summary
Stock Code
6136
Stock Listings
Tokyo, Nagoya Stock Exchange
Fiscal Year
From December 1 to November 30 of the Following Year
Annual Shareholder Meeting
Every February
Record Date for Dividends
Year-End
Every Year on November 30
Interim
Every Year on May 31
Transfer Agent
Sumitomo Mitsui Trust Bank, Limited 1-4-1, Marunouchi, Chiyoda-ku, Tokyo
Same Contact
Mitsui Sumitomo Trust Bank, Limited Stock Transfer Agency Department
http://www.smtb.jp/personal/agency/ (Japanese only)
Number of Shares per Unit
100 shares
Number of Shares
(As of November 30, 2022)
Number of Shares Authorized
200,000,000 shares
Number of Shares Issued and Outstanding
99,182,517 shares
Number of shareholders
(As of November 30, 2022)
7,918 shareholders
Method of Public Notice
Announced electronically at https://www.osg.co.jp/about_us/ir/kessan/ (Japanese only).
In the case of special circumstances,
we will announce by posting in Nihon Keizai Shimbun.