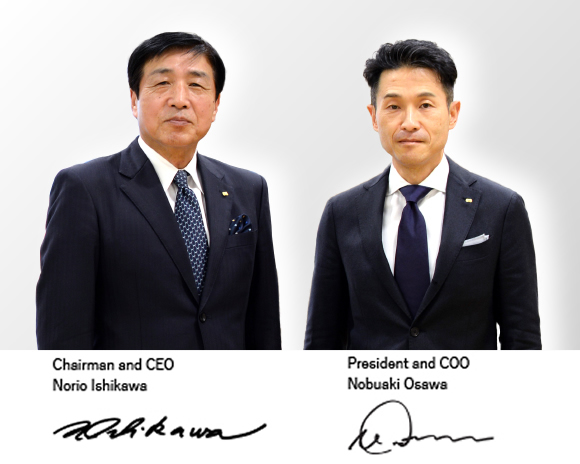 OSG is the world's largest manufacturer of round cutting tools, with a vast product offering including its world-renowned taps, end mills, drills and rolling dies. Cutting tools are the backbones of the manufacturing industry, supporting the production of a variety of industrial products that are essential to the well being of society.
"Shaping your dreams" is OSG's corporate slogan and commitment to transforming each and every one of our customers' ideas into reality. With this mission in mind, it is our promise to deliver products and services with complete customer satisfaction and to continue to contribute to the advancement of the manufacturing industry.
FY2018 Financial Summary & Future Growth Strategy
Worldwide prosperity for manufacturing industry served as a spur to the strong performance of the world economy in 2018. We've sustained the high level of booking in the wide range of industries such as automobile, aerospace, general machinery, etc. Moreover, cutting tool needs have been mounting globally because of increase in demand for semiconductor, growth of robot production, and recovery of heavy and construction industries result from rising resource cost. Now, we are at our full production capacity with surge in order of both standardized products and specialized products. Accordingly, net sales have increased by 9.3% year on year to ¥131.3 billion, operating profits have increased by 17.7% to ¥22.5 billion, and net income attributable to shareholders of the parent company has increased by 17.9% to ¥22.5 billion.


Aiming to reach ¥150 billion for net sales and ¥30 billion for operating profits by FY2020, in this year as the 2nd year of medium-term management plan, we powerfully pursued our two main strategies; 'Major end-users' and 'Catalogue item sales'.


We fully applied our global network, abundance of information, and proposal ability to introduce OSG's specialized products and strongly committed to sales promotion for standardized products, "A-Brand". These efforts brought the significant result as planned. Focusing on our productivity, we have tried to contribute to profit by raising operation rates enhancing "smart-line project". In this year, we showed steady growth to achieve our objective.


OSG will continue to aim to be the world's top hole-making cutting tool manufacturer by strengthening its global network, technical and proposal capabilities, as well as by further integration of its domestic and overseas sales, engineering and production divisions.
February 2019