Basic Philosophy
The OSG Group is working towards the development of a more sustainable society by maintaining and developing healthy relationships with all stakeholders, including shareholders, customers, business partners, employees, and local communities. As members of society, we will strive to exist in harmony with society through social contribution activities and the promotion of mutual understanding with stakeholders.
Promoting Diversity
Employment Opportunities for People with Disabilities
OSG actively employs people with disabilities. Each employee is assigned a workplace and occupation in consideration of their aptitude and support requirements. A support team for people with disabilities was established within the Human Resources and General Affairs Department in June 2020 as part of our efforts to further expand and develop employment opportunities for people with disabilities.

The support team receives work requests from each division and provides an environment in which even those who require adjustments in terms of work hours or working time are able to take on work. We plan to expand our initiatives to provide employment opportunities for people with disabilities to other OSG Group companies in the future.

We are also expanding our efforts in this area into off-site and contract work in collaboration with community-based social welfare organizations. OSG is broadening the scope of its contributions to local communities and society by providing opportunities for people who cannot work within companies to participate in the workforce. We will continue to work alongside all concerned to help people to experience the joy of productive work.
■ Exceeding the Statutory Percentage of Employees with Disabilities
| | |
| --- | --- |
| Statutory ratio | 2.20% |
| OSG employment ratio | 2.27% |
※As of fiscal 2019
■ Contributing to Communities
OSG factory tours for support organizations and companies
As of fiscal 2019
Individuals: 41
Groups: 5
Seminar for companies, supporters, and users "Examples of Employment Initiatives for People with Disabilities"
As of fiscal 2019
External: 12
Promoting Active Participation by Women
Career Plan Statement System
We provide a career path for our female employees and implement systematic rotation, including overseas placements, based on employees' self-reported career plans. In order to be sustainable as a company, we require employees with a wide-ranging perspective who are able to adapt to change. The introduction of a new career plan statement system is planned in order to allow our employees to gain experience in multiple locations and develop a broader perspective. Under this system, employees are asked to provide a yearly statement of where they see themselves and the work they want to do over the next 10 years. This is then matched against our human resource deployment strategy and human resource development planning to create a cross-departmental personnel system.
Support for Balancing Work and Family
We support balancing work and family life through our substantial childcare leave system. Satellite work and flextime have reduced the burden of commuting and enabled employees to spend more time at home. The future implementation of a home working system is also under consideration.
Childcare Leave System
We continue to improve and expand our childcare leave system, which has been enhanced to go beyond the standards stipulated by law since its introduction. More detailed information is provided below :
<Childcare Leave System Expansion>
1. System of reduced working hours to allow for fertility treatment (paid leave)

Employees can receive special paid leave and reduce their working hours by up to two hours per day in order to receive fertility treatment.
2. System for adjusting work hours

Parents working at locations where flextime is not available can apply to adjust their working time in ten minute units by up to one hour per day until their child finishes third grade of elementary school.
3. Extended eligibility period for childcare leave

The eligibility period for childcare leave has been extended until children reach two years of age.
4. Extended eligibility period for exemption from overtime

The eligibility period for exemption from overtime has been extended until children enter elementary school.
5. Expanded system of reduced working hours for employees with childcare needs

The eligibility period for the system of reduced working hours for employees with childcare need has been extended until children finish third grade of junior high school.
6. Extended eligibility period for taking annual paid leave by the hour

The eligibility period for taking annual paid leave by the hour has been extended until children finish third grade of junior high school.
Satellite Work System
A satellite work system has been introduced to assist employees in balancing work with childcare and other domestic responsibilities. Employees have reported that working closer to where they live has made commuting easier and allowed them to dedicate more time to childcare duties such as taking their children to and from school.
The future implementation of working styles that are not limited by location is under active consideration.
Promoting Active Participation Irrespective of Nationality
Trainees from Overseas
OSG has production sites and sales locations all over the world. We are making active efforts to promote the development of employees both in Japan and in our overseas locations. We regularly accept employees from our overseas subsidiaries as trainees and provide training in the technology and know-how employed at our mother factories. After leaving Japan, these trainees are able to integrate the knowledge and cultural experience gained during the time in the country with their own local values in order to provide training and guidance to other employees. They also act as a bridge between employees in Japan and overseas, contributing to raising standards of production and technology in each location. OSG also utilizes human resources development projects and subsidies promoted by government bodies to further expand the number of opportunities for active participation by employees from various countries.
In addition to our in-house initiatives, we also provide internships to non-Japanese university students from both Japanese and overseas universities. We aim to contribute to students' future success through long-term training opportunities that provide a stepping stone towards building their careers.
Recruitment
Nationality is not taken into account during recruitment at OSG. The same recruitment process and conditions are applied regardless of nationality and employees from a range of countries are currently employed throughout the company. At present, ten different nationalities are represented among the staff at the OSG parent company.
We have manufacturing and sales locations in 33 countries around the world, and our overseas subsidiaries provide employment to people in their respective countries.
Intercultural Exchange in Dormitory Life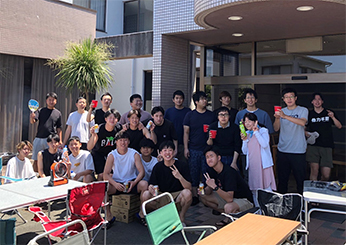 Trainees who come to OSG from overseas are provided with accommodation at the dormitories used by our other employees. At these dormitories, trainees from overseas live together with younger employees who have relocated for work. By living in a shared space, trainees from overseas can make the most of their time in Japan through the opportunity to experience Japanese culture while also sharing enjoyable experiences and concerns with trainees from other countries.
Being in a position of providing support to others is also a valuable experience for our younger employees. Dormitory residents also have the opportunity to participate in regular meetings, social events, and volunteer-run events including sports and excursions.
We strive to make daily life as comfortable as possible for trainees from overseas and employees in Japan. Our Human Resources and General Affairs Department provide integrated support alongside any relevant departments in order to resolve issues that cannot be handled within the dormitory.
Building a Better Working Environment
Health Care
Support for Balancing Medical Treatment and Work
At OSG, we have established a company policy regarding support for balancing medical treatment with work.
The feelings of the person concerned are given priority.
Employees are not required to disclose the name of their condition.
A flexible approach is taken without excessive adherence to rules. (Burden should not be placed on the person concerned.)
In order to implement this company policy, a number of employees have been involved in the creation of various systems to support employees who are receiving medical treatment.
Support system including industrial physicians, public health nurses, nurses (occupational health professionals) and companies
A system to facilitate contact with occupational health professionals has been implemented at each of our locations.
Review of internal notification procedures (reducing the burden on the person receiving treatment)
Occupational health professionals handle a range of internal notification procedures in order to reduce the burden placed on the person receiving treatment.
Creation of tailored plans for returning to work by occupational health professionals and human resources personnel.
Careful consideration is given to the condition of the person receiving treatment, and every effort is made to support them as much as possible.
We constantly strive to put our employees first and enable them to balance medical treatment with work.
Working Style Innovation at OSG
Promoting "Straight There, Straight Home" Working in Sales
Our domestic sales system comprises three sales divisions at 28 sales locations. Sales personnel are responsible for a large number of customers over a wide area. For this reason, it is essential that they work efficiently. Consultations with sales personnel showed that they spend an average of 40% of their time on sales, with 38% spent at the office and 22% spent traveling. In order to both reduce working hours and enable our employees to focus on their sales activities, we encourage them to travel directly to and from their destination without coming to the office.
To support this "straight there, straight home" style of working and minimize the number of journeys to our sales offices, all sales personnel are provided with mobile devices such as smartphones and iPads, and we strive to enable them to complete tasks such as inventory confirmation, document creation and reporting while on the move wherever possible.
The division of responsibilities between sales personnel and support staff with regards to processes carried out at sales offices has also been more clearly defined to enable greater focus on sales activities. These initiatives reduce time at the office and travel time, reducing working hours while also ensuring that our sales activities are carried out in an efficient manner.
Nursing Care Leave System Expansion
We have continued to improve and expand our nursing care leave system since its introduction. More detailed information is provided below.
<Nursing Care Leave System Expansion>
1. 365-day nursing care leave

In consideration of the trend towards longer periods of nursing care, we provide 365 days of nursing care leave rather than the 93 days stipulated by law.
2. Elimination of three year period for reduced working hours for employees with nursing care needs

Under the previous regulations, employees were able to use the system of reduced working hours for employees with nursing care needs twice or more during the three year period from when they began using the system. In consideration of the trend towards longer periods of nursing care, the three year period has been eliminated following a review.
Expansion of Eligibility for Taking Annual Paid Leave by the Hour
Paid leave by the hour was previously available for employees who needed to provide childcare for children in sixth grade of elementary school or younger and for employees who needed to provide nursing care to second-degree relatives. In order to further improve working conditions for our employees, eligibility for paid leave by the hour was expanded in April 2019.
<Expansion of Eligibility for Taking Annual Paid Leave by the Hour>
1. Eligibility expanded to parents with children in the third grade of junior high school or younger

In order to help our employees to balance family life with work, the system of reduced working hours for employees with childcare needs and eligibility to take paid leave by the hour have been extended until children finish the third grade of junior high school.
2. Expansion to include employees who require hospital visits or medical treatment

We strive to meet the needs of employees who require regular hospital visits or medical treatment in order to allow them to work with peace of mind.
Increased Maximum Reserve for the Expired Paid Leave Reserve System
As part of our existing efforts to reduce lost paid leave, we have operated a reserve system for paid leave, which expires two years after it is received, while also aiming to increase the rate of paid leave taken each year. Reserve paid leave can be taken in order to receive medical treatment in cases of personal injury or illness and to provide nursing care to family members through the medical leave system. Previously, up to four days per year could be kept in reserve up to a maximum cumulative total of 30 days, however, these initiatives were further improved and expanded in April 2020.
<Medical Leave System Expansion>
1. Expansion of maximum amount of reserve to 40 days
2. Expansion of eligibility conditions

Under the previous eligibility conditions, employees had to be unable to work due to a non-work related injury or illness for seven consecutive days or more. This has been reduced to one day or more in order to make the system easier to use.
Flextime System
We have introduced a flextime system for positions in divisions such as technology, development and the back office, where improved efficiency and productivity can be achieved by providing employees with discretion over their working hours. This has been a popular addition to our existing systems of reduced working hours for employees with childcare and nursing responsibilities because it facilitates our employees' work and enables them to work in a way that fits their individual lifestyles.
This system has been well used, as shown by the flextime uptake rate (the ratio of employees who are eligible for flextime that start or finish work outside of the existing prescribed working hours) of 43%.
Our flextime system operates between 6:00 am to 10:00 pm. The core hours depend on the time of year and are either 10:00 am to 2:50 pm or 10:30 am to 3:20 pm.
Home Working System
The introduction of a home working system limited to employees who meet certain conditions is currently under consideration. While there are potential merits to working from home, there are also issues that need to be resolved in order to ensure that these benefits are realized. Our partial implementation of home working seeks to achieve the two following objectives.
<Home Working System Objectives>
1. Achieving an optimal work-life balance (childcare / nursing care)
2. Enabling the company to continue operating during emergencies (natural disasters, pandemics, etc.)
Human Resource Development
Basic Philosophy
Human Resource Development Philosophy
In 2013, we introduced a new personnel system with the aim of enabling our employees to develop in a way that maximizes our value as a company while creating a corporate culture that emphasizes personal development and embracing challenges. We believe that our employees have unlimited potential and are an indispensable part of the company. Building on our philosophy with regards to human resource development, we strive to expand and improve our employees' capabilities and help them to develop based on the seven qualities required for advanced manufacturing.
<Seven Qualities Required for OSG Employees>
Globality:

As the world's leading manufacturer of cutting tools, we must be constantly aware of our position as a member of a global society and demonstrate the sensitivity to respond to cultures, languages, and customs around the world.

Spirit of challenge:

We must understand dreams and aspirations, never fearing failure as we continue to set and try to achieve ambitious targets.
As we move forward, we have to think on our feet to adapt to changes while generating profit.

Conceptualization:

In order to contribute to manufacturing industries around the world as a cutting tool manufacturer, we must be able to see the essence of objects, formulating advanced concepts and plans that also align with company policies and management goals.

Communication:

In order to actualize the idea of "tools and communication", we must foster strong relationships based on trust, communicate intentions and information with speed and accuracy, and collaborate with team members both within and outside of the company.

Leadership:

Leadership allows us to guide the members of our team in the right direction and demonstrate the boundless potential of collective effort.
A leader can gain the complete trust of their team and shows humanity, sincerity and a sense of responsibility as the situation demands.

Followership:

Followership means providing active support for leadership in order to demonstrate the boundless potential of collective effort while having the awareness and capacity to collaborate with leaders and organizations to achieve the objectives of the workplace.

Innovation:

Innovation allows us to create new value by pursuing the development of cutting tools to provide products and services that meet the real needs of our customers.
Human Resource Development System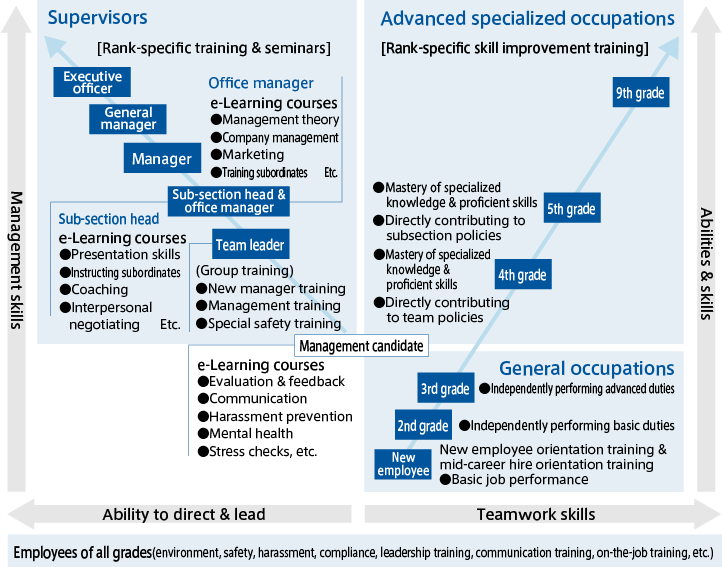 WorldSkills Competition
The WorldSkills Competition is Japan's premier manufacturing skills competition and aims to encourage the development of young skilled workers, who represent the future of Japan, and to raise awareness of the importance of manufacturing.
Participants must be 23 years of age or younger. OSG first participated in 2012 and this year is the ninth time that we have taken part. Each year, we send two entrants to compete in the CNC Milling event, in which they use their skills to achieve optimum performance with OSG's end mills and complete high-precision tasks. We also send one representative to compete in the Mechanical Engineering CAD event, in which 3D has become increasingly predominant in recent years. As a cutting tool manufacturer, we take pride in the technical skills of our employees and put our all into the competition.
We are also engaged in providing support and carrying out awareness-raising activities at the Japanese National Skills Competition in Aichi Prefecture over two consecutive years (2019 and 2020).
Supporting the CNC Milling Event at the WorldSkills Competition
Japanese qualifying for the CNC Milling event at the WorldSkills Competition is held every two years with the aim of fostering goodwill, promoting vocational training in the countries that compete in the WorldSkills Competition and providing young skilled workers with the opportunity to engage in international exchange. Former WorldSkills Competitions competitors are involved in the event as part of the organizational staff. In addition to providing support such as competition supervision, time management, and troubleshooting on the day, they are responsible for the advance checking and correction of technical drawings used during competition tasks, providing subjective scoring of the works produced, and providing assistance to competitors invited from overseas. OSG also provides cutting tools for competitors who have been invited from overseas.
Technical Guidance in the Host Region of the Japanese National Skills Competition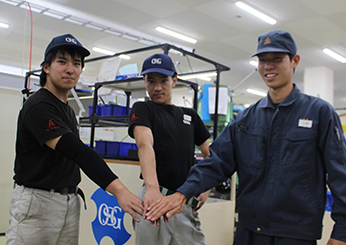 To coincide with the Japanese National Skills Competition and Abilympics being held in Okinawa in 2018, we provided technical guidance to local industrial high school students from Okinawa who were taking part in the event.
Students were taken on as interns over summer vacation and provided with in-house training. We will continue to use the WorkdSkills Competition as an opportunity to develop career support and technical guidance in Okinawa and other parts of the country.
Respect for Human Rights
The OSG Group and all employees both in Japan and abroad work with respect for human rights and are committed to following the letter and the spirit of all relevant laws, regulations and international rules while taking a proactive approach to the creation of a sustainable society with sound values. We ensure a work environment that will neither offend nor discriminate by race, belief, skin color, sex, religion, nationality, language, physical appearance, wealth, or birthplace. We must be particularly mindful of sexual harassment, which we strongly disapprove of as a company. When such problems occur, we must quickly investigate the case, provide aid to the person making the complaint, and act decisively to prevent any recurrences.
Initiatives Promoting Respect for Human Rights
Some of the main activities undertaken at our company in order to promote respect for human rights are outlined below.
1. Awareness activities

Training for new employees includes a session on the topic of "Noticing Prejudice" in order to provide an opportunity to engage with awareness of human rights. We also aim to raise awareness of issues relating to human rights among mid-level employees, particularly those in management positions, by providing opportunities to attend external seminars.
2. Initiatives to ensure fair selection during recruitment

Fairness in the recruitment process is a key measure of a businesses' respect for human rights, and OSG employees are provided with comprehensive awareness training before working in positions relating to recruitment or conducting interviews.
3. Initiatives to improve the working environment

Human rights issues are addressed in our in-house newsletter, and every effort is made to prevent the occurrence of issues in the working environment.
4. Contact point for advice relating to human rights issues

A contact point has been established for employees to seek advice or make complaints regarding harassment.
We are making active efforts to promote human rights awareness among all of our employees and will continue to carry out this important work. OSG is also a member of the Industrial Federation for Human Rights in Aichi and engages in activities to promote and improve human rights awareness.
Harassment Prevention
At OSG, we have established regulations to prevent various types of harassment. We strive to create a workplace in which all employees can feel comfortable by ensuring that everyone is aware of the company's role in preventing harassment, the responsibilities of people in each position and the contact points that are available for employees to seek advice. In addition to awareness activities to prevent harassment, we are working to further enhance our consultation system and make it more responsive through means such as increasing the number of staff members available to provide advice.
The Sustainable Development of the OSG Brand
Pursuit of Customer Satisfaction
Technical Seminars
Face-to-face and online technical seminars form part of our efforts to further improve customer satisfaction. We gauge customer satisfaction and points for improvement through surveys completed by those in attendance and use this as a basis for constant development of the seminars that we offer. We have established specific targets with regards to customer satisfaction and are particularly focused on constantly challenging ourselves to achieve these goals. At our face-to-face technical seminars, customers are able to visit one of our facilities and deepen their knowledge of cutting tools by watching practical demonstrations in addition to listening to lectures. If customers are not able to travel to any of our facilities for any reason, our staff are also able to provide technical seminars out in the field.
Our online technical seminars are also seeing a marked increase in popularity due to the freedom they offer in terms of location. This is particularly valuable to those working from home or in rural areas without easy access to a training center. Moving forward, we will continue to make every effort to improve customer satisfaction among attendees to both our face-to-face and online seminars.
Communication Dial
Communication Dial answers more than 100 telephone inquiries from customers every day. The content of these inquiries varies from basic questions to specific technical queries relating to practical processing. Depending on the nature of the inquiry, it may be necessary to work with the design or development divisions, and coordination with the sales team to arrange a visit to the customer is sometimes required in cases where a same-day response is not possible. We are constantly striving to improve customer satisfaction and monitor our call reception rate as a performance indicator in order to ensure that we are always ready to respond whenever a customer contacts us. Whatever problem our customers may have, we want them to feel safe in the knowledge that OSG can provide them with a solution through Communication Dial. We will continue to make improvements to this service with the objective of putting the customer first.
Quality Management System
OSG Quality Slogan
We put quality first and have earned the trust and satisfaction of our customers through our exceptional products and services.
In order to maintain this level of performance, we make continual improvements to the effectiveness of our quality management system.
Quality Policy
1. Offering the best quality which satisfies our customers and society
2. Promoting the standardization of operations
3. Preventing progression of faulty products
4. Shipping products on schedule
5. Improving the quality control circle and 5S methodology
OSG Quality Certification System
We have established our own quality certification system to ensure consistent quality, and strive to maintain and improve the quality at our group companies in Japan and overseas. The quality certification system is a system to certify that quality management from receipt of raw materials (or materials for which regrinding has been requested) to product shipment and after sales service is equivalent to that of a mother factory managed by OSG Japan. Evaluation is performed by certified quality auditors from OSG Japan in accordance with the Three Reality Principle ("going on site", "knowing the situation", and "being realistic"). The systems in place to ensure that the quality required by customers is provided on a consistent basis and the capacity of employees to correctly evaluate products are evaluated. This is done through quality audits based on evidence submitted through communication with those in charge and those carrying out work.

We will continue to further expand these activities in order to ensure that OSG's standards of manufacturing are maintained at our group companies around the world.
Quality Management
ISO 9001
ISO 9001 Certificate(751.5 KB)
| | |
| --- | --- |
| Certificate No.: | JQA-2856 |
| Certified by: | Japan Quality Assurance Organization |
| Scope: | The design/development, manufacture and servicing (supply of technical data, technical guidance, calibration) of cutting tools, forming tools, measuring tools and non-wire coater bar. |
<Group companies with ISO 9001 certification>
Ohtaka Precision Co., Ltd.
SD MFG. Company
Aoyama Seisakusho Co., Ltd.
Noda Precision Co., Ltd.
Nissin Diamond Co., Ltd.
OSG Europe Logistics S.A.
OSG USA, Inc. (PARMA Factory, Bensenville Plant)
OSG GmbH
OSG Royco, S.A. de C.V.
OSG Korea Corporation
OSG Sulamericana de Ferramentas Ltda.
OSG (Shanghai) Precision Tools Co., Ltd.
Taiho Tool Mfg. Co., Ltd. (Kan Shan Factory / Gangshan Factory)
Dabao (Dongguan) Molding & Cutting Tool Co., Ltd.
Carbide Cutting Tools Pvt, Ltd.
OSG Thai Co., Ltd.
OSG Ibérica Tooling, S.L.
OSG Coating Service Co., Ltd.
JISQ9100
JJIS Q 9100 Certificate(1.2 MB)
Certificate No.:
JQA-AS0209
Certified by:
Japan Quality Assurance Organization
Scope:

・Design and manufacture of custom-made product of carbide tools such as end mills, drills and reamers.
・Manufacture of metal parts for spacecraft.
Contributing to Local Communities
Space Parachute Returns for Local Children with Dreams of Space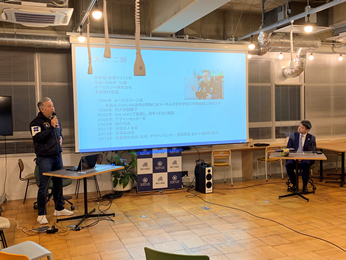 We exhibited the micro-debris tracking microsatellite IDEA OSG 1 at the Coconico Space Exhibition, which was held at the Coconico Toyohashi Development Center for Children's Futures between September 14 and 29, 2019. We also spread the word about the work of IDEA OSG 1 and OSG to the approximately 100 elementary school students who attended the Space Parachute Challenge for Children held on September 28th, along with their parents and/or guardians. A continuation of last year's event, this challenge gave children an opportunity to experience the importance of doing what they love with inventor Keisuke Iwaya, who is known for sending balloons into space to photograph the stars and the Earth.
An event to give high school students business experience by selling JAXA merchandise was also held this year. The enthusiasm of the students at these event as they worked hard on their activities was truly impressive.
Looking to the Future of Manufacturing with Local Elementary School Students at the Spirit of Manufacturing Awareness Project
A manufacturing workshop event for about 80 elementary school students was held in Toyokawa City on October 16th, 2019. The Aichi Prefectural Government is looking to encourage the pursuit of skilled work and promote interest in manufacturing through awareness activities held to coincide with the Japanese National Skills Competition and Abilympics in Aichi.
Attendees were able to experience the joy of manufacturing through practical workshops on topics such as precision measurement, cutting, safety and efficiency--elements that those competing in the WorldSkills Competition must be aware of in their day-to-day work. Activities included tapping acrylic sheets, using the decimal point that the students study in math class to perform precision measurement with calipers, feeling the effectiveness of wearing actual safety equipment and learning about how maintaining organization can improve efficiency.
As an introduction to the latest manufacturing techniques, attendees were also given a brief opportunity to see 3D drawings, animations and technical drawings of airplane models. The wonder in the eyes of the participants as they worked enthusiastically on completely new experiences was an inspiring sight. We hope that this type of event can foster the next generation of technicians to work in manufacturing.
Newcastles of the World Come Together in Shinshiro to Reach their Goals through International Exchange
There are more than 100 different towns and cities with the name Newcastle in various languages around the world. Shinshiro City is located near our headquarters in Toyokawa, Aichi Prefecture and literally translates as "new castle". It hosted the 1st Newcastles of the World Summit in 1998, at which 8 cities were represented. Since then, the event has been held in a different city every two years. The conference expanded to its current form as an "alliance" conference in which citizens are able to participate at the 2008 edition held in Neuburg, Germany. At the 2018 Newcastles of the World Alliance Conference, discussions were held with the objective of sharing information about issues and working together to develop solutions and action plans in four areas: culture, tourism, education and business.
We helped to sponsor this international exchange event as part of our efforts to foster goodwill between countries all over the world in our role as a global cutting tool manufacturer. Employees from our company were also involved as part of the organizational staff for the conference. We hope that these activities can serve as a basis to build deeper relationships with "Newcastles" all over the world and we will continue to take a variety of approaches as we make the most of this newly-established network in our manufacturing business across various regions.

Contributing to COVID-19 Infection Prevention at Local Municipal Hospitals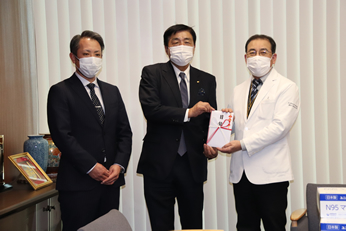 We would like to extend our most sincere gratitude to local medical personnel in the face of the extreme difficulties caused by the novel coronavirus (COVID-19) pandemic. As a sign of our appreciation, we made a donation of Fox Finger infection prevention tools developed by our technical team, masks and protective clothing to Toyokawa City Hospital, Shinshiro Municipal Hospital and Toyohashi Municipal Hospital in the local area. Fox Fingers were developed at our Design Center to provide a means of preventing the spread of infection by avoiding direct contact with objects such as doorknobs and buttons. This product was originally created for use by medical personnel and has a shape that is both ergonomic and easy to use.
Developing a Disaster-resistant Forest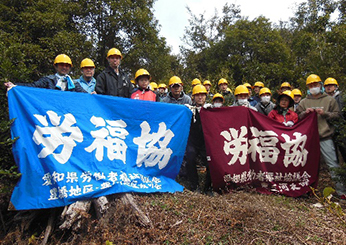 On March 16th, 2019, a forest maintenance volunteer activity was held at Toyohashi National Forest in Mt. Ishimaki. It started with the aim of creating a forest that is resistant to typhoons and heavy rain by planting saplings to grow evergreen trees on the land damaged by a typhoon in 2019.
Weeding work called "shitagari" is carried out to protect grown saplings from weeds, which can prevent the growth of saplings if left unattended.